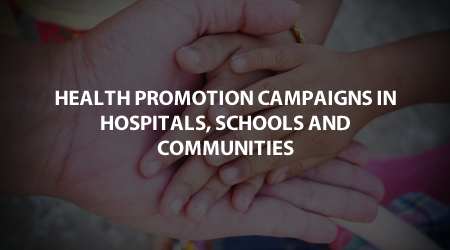 Hospitals
The threat of antimicrobial resistance requires practical actions from policies makers, public and private health care providers. In a bid to address this global health security challenge with its impact on multiple Sustainable Development Goals (SDGs), Ducit Blue Solutions conducted awareness campaign on the global threat of AMR at various public and private healthcare facilities
Our campaign as part of Continuous Medical Education (CME), focused on raising awareness in the following causes of AMR in line with the WHO, including over prescribing of antimicrobials, patients not finishing their treatment, dangers of self-medications, poor infection control in hospitals and clinics, lack of hygiene and poor sanitation and finally lack of antibiotics being developed. We also used the medium to inform on the journey of Antimicrobial resistance so far, situation analysis findings of AMR in the country and shared Nigeria's 5-year strategic framework on plans to combat AMR.
Schools/communities
During the world malaria awareness day in 2016, we partnered with Panacea Health and Wellness foundation, NAFDAC Intern association and YALI Abuja to offer members of Mpape community in Abuja free malaria screening, treatment and counselling.
The message "Every infection prevented is an antibiotic treatment avoided" formed part of our antibiotics awareness campaign of the growing threat of antimicrobial resistance and the need for proper hand washing during our visit to the staff and pupils of Mpape LEA primary school, Abuja during the antibiotic awareness week in November 2017. The pupils were tasked to participate in a hand washing poster competition, which was judged by our partner colleagues from the Faculty of Biology, Medicines and Health Sciences, University of Manchester, UK
The pupils were further demonstrated on proper hand washing techniques, taught how to make a tippy tap and encouraged to instill the culture of regular hand washing in school and at home. In addition, for their parents to always take them to a healthcare facility to be treated whenever they fall ill.